Other Events
OTHER EVENTS
Planning a family reunion, birthday celebration or other family event can be difficult enough without worrying about the venue. Let our event experts at the Charleston Tea Garden take care of all the details as your guests take in the unique Southern experience that is the trademark of our location. Located on an undeveloped stretch of scenic country road on Wadmalaw Island, the Charleston Tea Garden can set the tone for a relaxing and memorable day with family and friends.
Our Pavilion, located in the tranquil tea fields, can be configured to your specifications to ensure the success of your Family Event. The Pavilion can accommodate roughly 112 people at 48" square tables or 80 at 60" rounds.  Also, the area surrounding can easily be tented to create additional covered space for your guests.
The front porch of the Garden Gift Shoppe offers another functional area to set up a dinner, cocktail reception or buffet. 48" Square tables can be used to comfortably seat 64 people or 60" rounds could be used to accommodate about 56. The Live Oaks surrounding this space are shady and inviting providing plenty of ideal and picturesque places for additional tables and seating.
The Trolleys are also available for shuttling guests around the Garden or giving a tour through the tea fields while explaining the farming and harvesting process. This Trolley Tour is narrated by William Barclay Hall, the founder of American Classic Tea. The Factory Tour, narrated by Mr. and Mrs. Bigelow via flat screen televisions, offers a glimpse into the production of our 9 varieties of Charleston Tea Garden Tea.  If desired, these Tours can be incorporated into your Family Event, making it not only a fun and enjoyable occasion for all, but also a one-of-a-kind educational experience!
For availability or additional information, e-mail us at info@charlestonteagarden.com.
Give us the chance to turn your Family Event into an unforgettable memory to be talked about for years to come!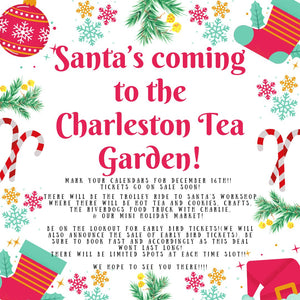 Join Us for a Jolly Good Time!
Join us for a Trolley ride to Santa's Workshop where there will be crafts, cookies, a mini holiday market and much more!
Learn more