FAQs
FREQUENTLY ASKED QUESTIONS
WHAT IS THE RELATIONSHIP BETWEEN THE CHARLESTON TEA GARDEN,  AND BIGELOW TEA?
In 2003, the Bigelow family purchased the Charleston Tea Garden and formed a partnership with former owner William Barclay Hall.  The Bigelows brought sixty-five years of experience in the specialty tea business to the Garden and the American Classic brand. Since 2003, the Charleston Tea Garden has been transformed into a true American icon. American Classic Tea has maintained its faithful fans since its start in the late 1980's and has continued to prosper as a result of consumers wanting to experience the only tea grown and produced in America.  Today the Charleston Tea Garden offers more than just a cup of fresh tea. Thanks to the Bigelow family, the true working tea farm presents a learning experience unlike any other in the country. 
ARE ANY OF THE BIGELOW TEAS MADE WITH TEA FROM THE CHARLESTON TEA GARDEN?
No, Bigelow Teas are not made from any of the tea leaves grown or harvested here at the Charleston Tea Garden.  Charleston Tea Garden Teas are the only teas made from the tea leaves produced by the Camellia Sinensis plants grown in the fields of the Charleston Tea Garden.
WHAT IS FIRST FLUSH TEA? 
"First Flush" refers to the tea made with the first growth of our tea bushes in the springtime when they wake up from their winter dormancy.  Usually this happens in April or May and creates a unique taste only available once a growing season!
HOW MANY CUPS OF TEA CAN BE MADE FROM A TIN OF ANY OF YOUR CHARLESTON TEA GARDEN TEAS?
Our tins can make roughly 22-25 cups of tea, depending upon your preferred strength of taste.
HOW OLD IS THE CHARLESTON TEA GARDEN AND WHY DO YOU CONSIDER IT TO BE A PART OF HISTORY?
The Charleston Tea Garden got its official start in 1987, but its true history goes way back.  In the 1700s tea bushes also known as the Camellia Sinensis first arrived in the United States from China.  Several attempts were made in South Carolina over the next 150 years to propagate and produce tea for consumption, but none were successful.  Not until 1888, when Dr. Charles Shepard founded the Pinehurst Tea Plantation in Summerville, South Carolina did American grown tea become a reality. In Summerville, Dr. Shepard created award winning teas until his death in 1915.  After his passing, the Pinehurst Tea Plantation closed and Dr. Shepard's tea plants grew wild for the next forty five years. 
In 1963, a 127 acre potato farm located on Wadmalaw Island in the Lowcountry of South Carolina was purchased and Shepard's tea plants were transplanted from Pinehurst to the farm. This farm eventually became known as the Charleston Tea Garden. Every Camellia Sinensis plant growing on the grounds of the Garden is a direct descendants of Dr. Shepard's 1888 crop, making the Charleston Tea Garden a living part of American history! 
WHAT IS THE BEST TIME OF THE YEAR TO VISIT THE CHARLESTON TEA GARDEN?
The Charleston Tea Garden is open year round and there is always something for you to see and enjoy...
Spring: The harvest season begins in the month of May. 
Summer: The harvesting and production processes are in full swing.
Fall:  Harvesting ends around the end of September/beginning of October. During this time of year the Camellia Sinensis plants begin to bloom.
Winter: Even though the harvesting season is over you can still experience the workings of the farm.  The plants may be resting, but the atmosphere is still full of energy! 
WHEN DO THE CAMELLIA SINENSIS PLANTS BLOOM?        
The Camellia Sinensis plants can start to bloom as early as August. However, typically they peak in the month of September but can sometimes last through late October. This is usually shortly after the harvest season has come to a close. Traditionally, the blooms are followed by the plants' dormant season.
WHY DON'T YOU MANUFACTURE AN OOLONG TEA?
The popularity of black and green teas have kept us so busy with production that we have not had the opportunity to re-configure the Factory for the production of Oolong Tea. 
WHY DON'T YOU MANUFACTURE ANY DECAFFEINATED TEAS?
The Charleston Tea Garden takes pride in producing a product as all natural as its Charleston Tea Garden Teas. There are absolutely no herbicides, pesticides or insecticides used to protect the growth of the tea plants. With that being said and taking into consideration that in order to decaffeinate any tea requires the use of chemicals, we have chosen not to produce a decaffeinated tea. However, studies have shown that heat releases caffeine, so there are ways to naturally reduce the amount of caffeine in your Tea...
TO MAKE REDUCED CAFFEINE ICED TEA-Pour cold water over your tea bags and let it sit overnight at room temperature. (Using cold water will significantly reduce the caffeine in your beverage.) In the morning, remove your tea bags, add a sweetener if desired and serve over ice.  
TO MAKE REDUCED CAFFEINE HOT TEA-Bring your water to a rolling boil and pour it directly over your tea bag or loose leaf. Do not use much water because this first brew contains the most caffeine and should be discarded. Leave this to infuse for 45 - 60 seconds and then gently pour the tea out, leaving your tea bag or loose leaf in the cup.  Now you are free to use the same tea bag or loose leaf to make your fresh cup of naturally decaffeinated Tea. 
HOW MUCH CAFFEINE WOULD YOU SAY YOUR CHARLESTON TEA GARDEN TEAS HAVE IN IT?
A cup of any of our Charleston Tea Garden Teas usually contains half the amount of caffeine that an average cup of coffee does.
Caffeine Averages of Milligrams per 8 oz. Serving
Coffee 100-120 mg

Black Tea 30-60 mg

Green Tea 25-50 mg
IS THERE A DIFFERENCE IN THE AMOUNT OF CAFFEINE IN BLACK AND GREEN TEAS?
Typically, black tea contains slightly more caffeine than green tea. Although, being a natural occurring part of the plant, the caffeine levels can vary based on climate and soil content.
WHAT IS THE EASIEST WAY TO MAKE A GALLON OF ICED TEA WITH YOUR TEAS?
1.  Place 9 Charleston Tea Garden Tea pyramid bags in a heat safe container
2.  Bring fresh, cold tap water to a rolling boil
3.  As soon as the water reaches a rolling boil, pour directly over the tea bags
4.  Steep the tea bags for 6 minutes
5.  Add water and ice to bring to a gallon
If you do decide to sweeten your tea, we suggest that you create a liquid solution with your sweetener prior to adding it to your brewed tea.
HOW LONG WILL A GALLON OF YOUR ICED TEA STAY FRESH?
We would recommend only keeping a gallon of iced tea for a maximum of one and a half days. 
DO YOU SELL YOUR LOOSE TEA LEAF TO ANY OTHER COMPANIES TO USE IN THE PRODUCTION OF THEIR PRODUCTS?
No, Charleston Tea Garden Teas are the only teas made from the green leaf produced by the Camellia Sinensis plants grown on the grounds of the Charleston Tea Garden.
CAN I BUY CHARLESTON TEA GARDEN TEAS FROM ANYONE ELSE BESIDES THE CHARLESTON TEA GARDEN?
Currently, stores in 17 different states carry Charleston Tea Garden Teas and/or Body Products. Check out our Where to Buy page to see if the only tea grown in America is sold in a shop near you!
WHAT IS THE IMPORTANCE OF YOUR PRODUCT BEING CERTIFIED SOUTH CAROLINA GROWN?
The Certified South Carolina program is a new, exciting cooperative effort among producers, processors, wholesalers, retailers and the South Carolina Department of Agriculture (SCDA) to brand and promote South Carolina products. The goal is for consumers to be able to easily identify, find and buy South Carolina grown products.  Purchasing Charleston Tea Garden Teas not only supports the efforts of the Charleston Tea Garden, but also the State of South Carolina!
CAN WE BRING OUR DOGS WITH US?
PETS: YOU ARE WELCOME TO BRING YOUR BEST FRIEND ALONG WITH YOU TO THE TEA GARDEN!  WE JUST ASK THAT YOU KEEP HIM/HER ON A LEASH.  WITH THE EXCEPTION OF SERVICE DOGS, WE DO NOT ALLOW DOGS INSIDE OUR GIFT SHOP OR ON OUR TROLLEY TOUR. HOWEVER, OUR EXPANSIVE FRONT PORCH WITH ROCKERS IS A GREAT PLACE TO HANG OUT AND ALTERNATE VISITING THE GIFT SHOP/FACTORY AREA. 
 RIDESHARE USERS:
If you plan to use a rideshare application(Uber, Lyft, etc) please make sure you make arrangements to get back to your origination point prior to leaving as it is very difficult to get a ride back once you reach the Charleston Tea Garden. 
WHO DID THE WONDERFUL PHOTOGRAPHY FOR OUR WEBSITE?  
Photographed images used on the Charleston Tea Garden website, were photographed by:
Yve Assad Photography & Graphic Design, http://www.yvephoto.com/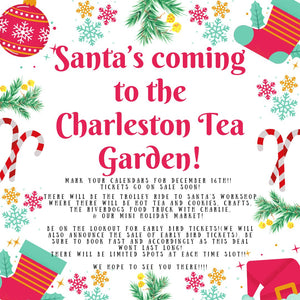 Join Us for a Jolly Good Time!
Join us for a Trolley ride to Santa's Workshop where there will be crafts, cookies, a mini holiday market and much more!
Learn more