First Flush
WHAT IS FIRST FLUSH TEA?
The name, First Flush, is actually defined as the new growth of leaves on the tea plants in the spring time after they awaken from dormancy. Usually this happens in April or May and creates a unique taste only available once a growing season!
If you would like to be notified when the 2023 First Flush Tea will be available please fill out the form below and we will let you know when it is available!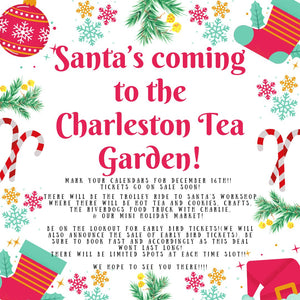 Join Us for a Jolly Good Time!
Join us for a Trolley ride to Santa's Workshop where there will be crafts, cookies, a mini holiday market and much more!
Learn more