The Charleston Tea Garden
Welcome to the Charleston Tea Garden®!  For tea lovers, we promise a once in a lifetime experience.  We're the only tea garden in North America where you can see hundreds of thousands of tea bushes stretching out acre after acre for almost as far as the eye can see.  There is no admission charge. The only charge you will incur is one for the trolley tour.
The Bigelow family, William Barclay Hall and the staff of the garden stand ready to bring you the tea experience of your life.  We're located on picturesque Wadmalaw Island in the heart of the lowcountry just a few miles south of the historic city of Charleston.
In addition to our many acres of tea plants, we offer a very educational tour of our tea factory.  You get to walk the entire length of our tea production building where you can see all the equipment it takes to make tea.  Large TV screens along the glassed in gallery describe the entire process.  As mentioned, we also offer a 45 minute trolley ride, which makes a stop at our state of the art greenhouse.  Last but not least is our gift shop, stocked with more tea related items than you can possibly imagine.  Last year some seventy five thousand people from all over the world came to visit us.  We'd love to have you be one of them this coming year.
Great place for all ages! Family friendly, FREE admission and had trolley tours! Oh, gift shop has free hot and cold teas. Both sweet and unsweetened. Plan on spending 1 to 1.5hrs to see it all and relax with some tea! We will be back with the family.
J Garth
Do NOT skip this! It is completely worth the drive from Charleston. Take the trolley tour! Very informative and entertaining. Factory tour is self-guided on progressive screens and you can see all of the equipment working as you walk through. All-you-can-taste self-serve tea samples included and nice selection of gifts as well as teas for purchase.
Emily nicole Walker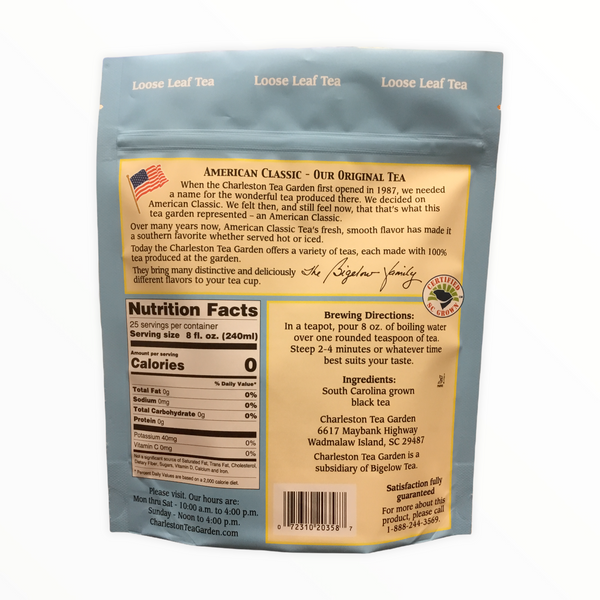 Map
6617 Maybank Highway
Wadmalaw Island, SC 29487
Monday- Saturday -10AM–4PM
Sunday12–4PM