Group Tour
GROUP TOURS
Learn About Tea Tour
Signing up for this Tour will ensure that your group enjoys everything the Charleston Tea Garden has to offer.  You will be greeted by a designated member of our staff and provided an informative introduction to the Garden.  He or she will help guide your group through their visit, making sure that they enjoy the following... 
1. Factory Tour
2. Trolley Ride
This Tour allows groups to experience all the amenities of the 'Learn About Tea Tour' as well as a delicious Boxed Lunch to be enjoyed in our scenic picnic area surrounded by Live Oak Trees. All Boxed Lunches are catered by a popular Charleston restaurant and can be selected from a pre-set menu. (A 40% Deposit is required on Boxed Lunches.)
The Charleston Tea Garden, America's own tea garden, is pleased to offer your group an experience that is not only educational but more importantly one-of-a-kind. We are handicap accessible and offer convenient bus parking. For more information on Group Tours or to make your reservation today, please e-mail us at info@charlestonteagarden.com.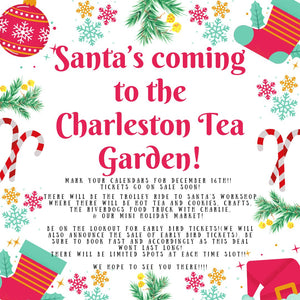 Join Us for a Jolly Good Time!
Join us for a Trolley ride to Santa's Workshop where there will be crafts, cookies, a mini holiday market and much more!
Learn more